PMS25 / 2,2kW
self-propelled saw for cutting brick walls
removable motor (with gear drive and cutting unit)
side rollers which allows transportation of the machine with a width of 70 cm
Self-propelled saw type PMS25, for efficient cutting of thick brick walls. With the PMS25, it is possible to cut wall in both directions. Machine is a perfect tool indoors. Removable motor (with gear drive and cutting unit) and lateral rolls facilitate transportation of the machine at max. width of 70 cm.
Saw type
electric self-propelled saw
Application
for cutting brick walls
Engine
2,2 kW / 3x400V / 50 Hz, left and right rotation
Power
2,2 kW
Chain sprocket transmission
stepping down 1:4,357 rpm / approx. 320 rpm
Feed worm gear
0,18 kW, 900 rpm, stepping down 3 rpm
Saw chain
carbide tipped chain CARBIDECUT20
Guide bar
high-frequency hardened with pulley, groove 2 mm
Cutting length
40, 50, 60, 80, 100, 110, 115, 130 cm
Efficiency of cutting
approx. 8m

2

 /day (cutting in slit during wall drainage)
Depth of cut
up to 1100 mm
Height of cut
24 – 420 mm
Machine length
approx. 1050 mm
Machine width
approx. 800 mm
Machine height
approx. 710 mm
Weight
approx. 210 kg (approx. 167 kg without removable motor with gear drive and cutting unit)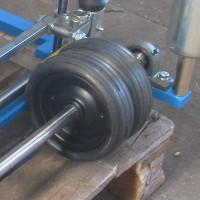 Properly adjusted speed of saw feed, high adherence of wheels.
Stepless, independent regulation of cutting height.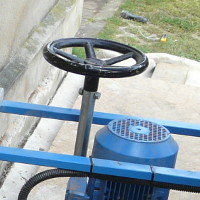 Possibility to easily adjust depth of cutting.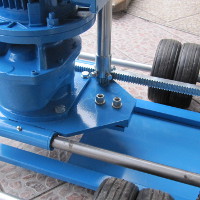 Massive transmission which ensures proper speed of the cutting chain.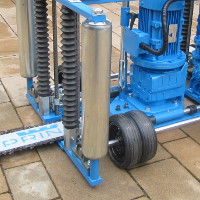 Rolls faciliating cutting process and guiding the machine along the building wall, lateral rolls to transport the saw.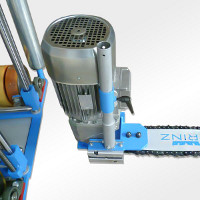 Removable motor with gear drive and cutting unit for easier transportation of machine.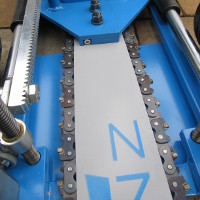 Massive carbide tipped chain, thickness of the link 2 mm, to cut various types of materials; high-frequency hardened guide bar with a pulley.
Ask about individual offer
Find missing or used spare parts
Why choose PRINZ wall drainage technology?

Warranty
We provide 30-year warranty for our services.

Effectiveness
Our method guarantees 100% cut-off of capillary moisture – the problem does not return until the end of technical life of the building.

Versatility
The method can be used in most of the buildings, regardless of wall moisture level and thickness.
Learn more