EED1400 / 2800 / 2,6 kW
three-phase saw for hardest applications
available in versions with 1400 or 2800 rpm
massive construction for cutting thick walls
A fully professional saw designed for heavy works when cutting brick walls, among others when installing new horizontal insulation in existing buildings.
The saw can also be used to cut holes for windows or doors. The possibility of using carbide tipped saw chain significantly broadens the ways of using the saw.
Saw type
electric hand saw
Application
cutting of brick walls while laying horizontal insulation in buildings, cutting of holes for windows or doors, cutting of soft stones
Motor/Engine
electric, double insulated, brushless, 3×400 V / 50 Hz / 1400 or 2800 rpm, direct power transmission
Power
2,6 kW
Chain type
carbide tipped chain CARBIDECUT 0,404″ or 1/2″
Guide bar
solid steel, high frequency hardened with pulley
Length of guide bar
43, 53, 63, 75, 90cm
Efficiency of cutting
approx. 6 m

2

/ day (cutting in joint during the insulation works)
Weight
approx. 15 kg
Dimensions
approx. 1090 x 350 x 250mm (L x W x H) – with 63cm guide bar
Other

easy saw chain tensioning
massive steel comb for easy cutting
machine design enables cutting right on the floor, what is especially important during insulation works
additional handle for easy horizontal cutting
steel operator's hand guard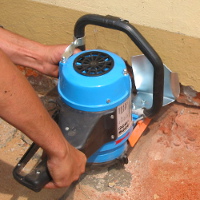 Robust construction and 2,6 kW three-phase motor.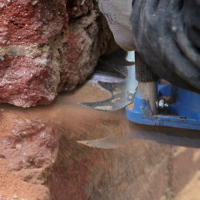 Steel comb for easy cutting of walls / building materials.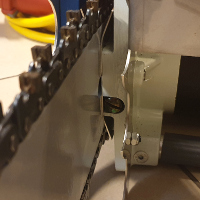 Easy tension of carbide-tipped chain CARBIDECUT, high frequency hardened guide bar with pulley, 1,6 mm groove.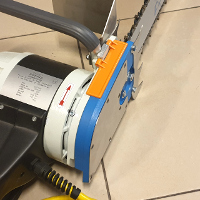 Saw chain cover design enables cutting right on the floor.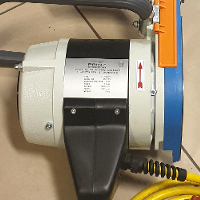 Direct power transmission, high torque.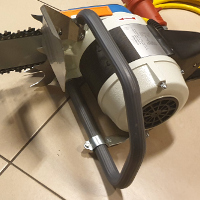 Comfortable, additional handle, facilitating horizontal cuts.
Plug with phase change.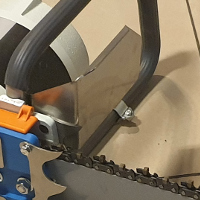 Steel operator's hand guard.
Ask about individual offer
Find missing or used spare parts
Why choose PRINZ wall drainage technology?

Warranty
We provide 30-year warranty for our services.

Effectiveness
Our method guarantees 100% cut-off of capillary moisture – the problem does not return until the end of technical life of the building.

Versatility
The method can be used in most of the buildings, regardless of wall moisture level and thickness.
Learn more